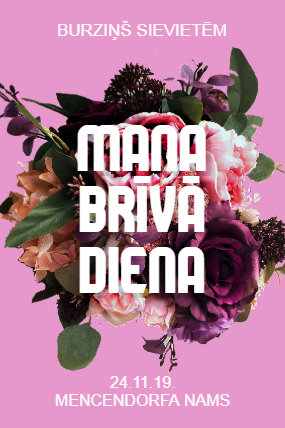 Ticket resale on eKase+ available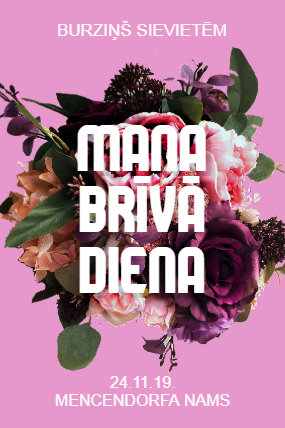 Women's event - My free day!
So many activities within the event - lectures /masterclasses, beauty POP-UPs and possibly the most beautiful gift offers.
Three inspiring masterclasses about style, organizing and travel:
ŽANNA DUBSKA, an expert on individual style and image, will invite us to a masterclass about the topics women are always interested in:
• how to always look great and spend less of your time and resources on it
• how to find your individual style
• what to buy and what not in this season
• practical tips, professional secrets and stylist tricks
DANA GULBE or Dana with a box shares her knowledge and experience in organizing. Dana is convinced that accurate environment is the basis for our well-being and productivity:
• how to organize your life in your environment
• how to organise stuff you have decided to keep and how to throw away the excess
EDGARS PLEŠS, a travel enthusiast who turned the hobby into a dream job, the creator of the Travelfree blog, will talk about "Don't buy a cat in a bag or how to find the best travel offers":
• what to do if the big dream of travelling is discouraged by a limited budget
• how not to fall for false offers
• what is "error fare" and can it be trusted
Beauty Pop – Ups will be held by event sponsors:
Kinetics Nails Latvia will demonstrate autumn/winter hand and foot care trends, also everyone will be invited for free manicures.
L' Occitane natural makeup of Provence will provide an opportunity to detect the moisture of your skin, relaxing hand massages and valuable facial tips.
But it's not all yet – everyone is invited for Instagram shopping experience:
• Cloudberry planners and scrapbooks
• Anna Panna cookbooks
• Tru:de clothing
• Nela Gems jewelry
• Marta Logina with essential oils
Let's celebrate with Laima sweets and sip a glass of good wine!
Event will take place on the 24th of November at Mencendorf House, Riga from 12:00 – 17:00.