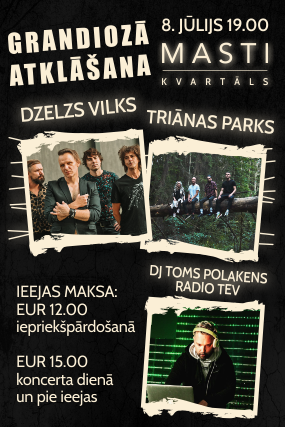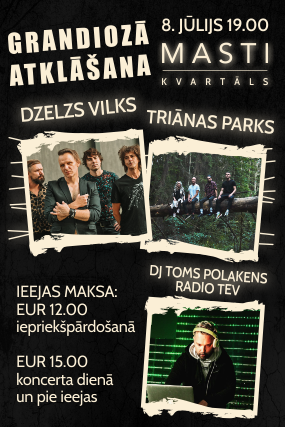 MASTI quarter celebrates the start of its first season with a grand opening concert.
A long-cherished dream has come true and a new open-air concert venue is being built in Ozolnieki, next to the lake - the MASTI kvartāls, which will start its summer concert series on July 8 with a grand opening concert. This evening, the festival will be opened by the participants of Andrzejs Graud's drum school, the groups "Dzelzs vilks", "Triana Park" and DJ Toms Polakens.
Everything will take place on July 8 at 19.00 in the MASTI quarter, in Ozolnieki, next to the lake.
Entrance from 18.00
Entry fee: EUR 12 buying in advance, EUR 15 on the day of the concert and at the entrance.
CHILDREN UNDER 6 YEARS OLD (included) admission to concerts, accompanied by parents, free of charge. From the age of 7, an entrance ticket is required
Tickets from June 17 at www.ekase.lv and MASTI grill & chill restaurant
Find out all about the MASTI quarter Facebook @MASTIkvartals Instagram @masti_kvartals
DO NOT BRING: umbrellas, self-propelled guns, photo and video apartment stands, folding chairs, food and drink, firearms, sharps, pyrotechnics, laser pens, dangerous substances and objects, motorcycle helmets, skateboard boards and other active sports equipment.
Surveillance and / or video cameras are possible in the event area. The visitor of the event agrees that a photo, video and / or audio recording may be made during the event, in which he may be filmed and photographed as an visitor to the event. Such material may be further used in any, including for commercial purposes without the visitor's permission.