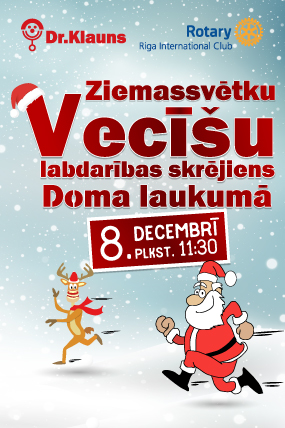 Galimas eKase+ antrinis bilietų pardavimas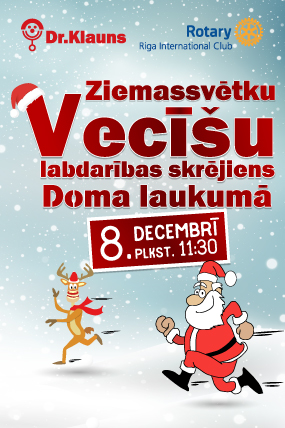 Santa's charity run has become a nice tradition for many people in Latvia. It is an event filled with positive emotions, attended by hundreds of participants: family, attractive business teams and collectives, as well as individual members. Charity runners, all dressed in Santa's suites, are united in their goal of helping children in Latvian hospitals to recover faster.
For the twelfth time this year, on December 8, the streets of Old Riga will be revered by the so-called "Santa, ho, ho!" Of Santa Claus.
Let's run together for children smile!
Welcome to attend the Riga International Rotary Club and Dr. Clown to do a good job and join the Santa Claus charity run! Running-walking distance of 1700 meters along the beautiful streets of the Old Town. At the end of the race all participants will be treated to nice treats!
Date and time of the event: 08.12.2019 at 11:30 (gathering from 10:30)
Venue: Pre-event gathering and start place for the race - Dome Square, Old Riga
Tickets sales and sign up for the Santa Charity Run at the Ekase starting October 21, 2019.
• Santa's suite is included in the ticket price and are available at the following locations:
Radisson Blu Daugava Hotel, Kugu Street 24, Riga;
Tallink Hotel Riga, Elizabetes Street 24, Riga;
• Suits will also be available on the day of the event, December 8, at Dome Square before the start of the race, starting at 10am.
The Santa Fun Run 2019 is organized by the Riga International Rotary Club and SIA ZeBerry.
Contact: Norberts Snarskis +371 29227306, maltalat@parks.lv