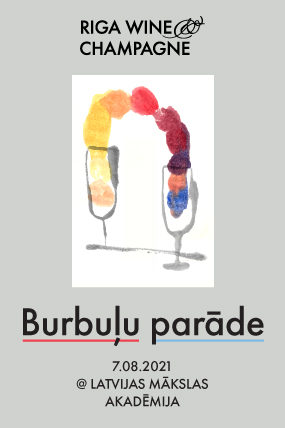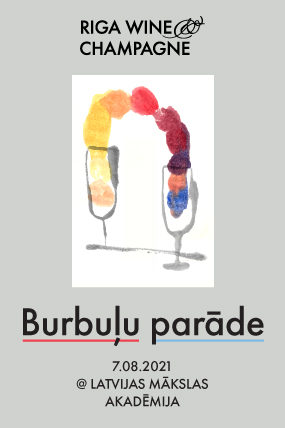 Please note: You will need a valid covid-19 certificate (completed vaccination cycle or illness) to present together with your ticket and ID (passport or ID card) at the entrance. If you do not possess a valid covid-19 certificate (for example, the vaccination process is not yet complete), you will not be able to enter the event, and no money will be returned. We thank you very much for your understanding!
We're happy to announce that Bubble Parade will again take place in the midst of summer – the annual Bubble Parade will take place on Saturday, August 7, at the courtyard and garden of Latvian Academy of Arts.
In addition to enjoying the best champagnes and sparkling wines imported in Latvia, the event will feature a premiere of a new wine book in Latvian – "Wine & Nords", the first wine book of the founder of the festival Aigars Nords. We're happy to welcome you to the book launch – be sure to expect lots of sparkling surprises!
There will be two sessions – a Day session (12 – 15) and a Night session (17 – 21). Both sessions will feature more than 100 different champagnes and the most popular sparkling wines, as well as masterclasses by the leading Latvian sommeliers, snacks & food by Barents (available for purchase), and plenty of surprises.
When: August 7, 2021; 12.00 – 15.00 or 17.00 – 21.00
Where: Courtyard and garden of Latvian Academy of Arts