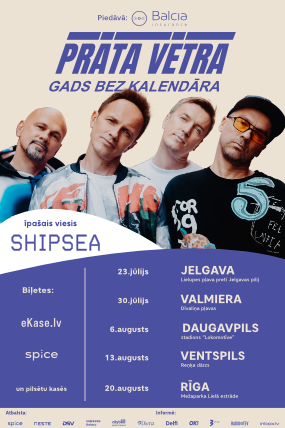 Galimas eKase+ antrinis bilietų pardavimas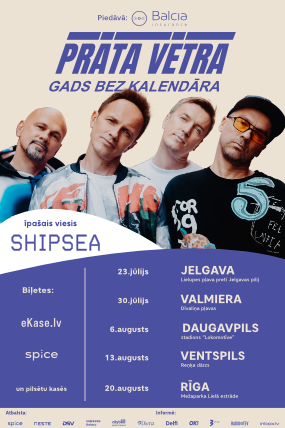 In the summer of 2022 BrainStorm will be on tour with the concert series "Gads bez kalendāra".
"There is no better way to be useful at this time than by doing what we do best - playing our music. This summer we will visit Jelgava, Valmiera, Ventspils, Daugavpils and Riga to give concerts and finally meet again with our listeners after a three-year break. It has not been just a "year without a calendar" (latvian version of the album "Gads bez kalendāra"). It has been a time period that made all of us look at many things completely differently. We believe that these concerts will unite us, give us hope and the joy of reunion will inspire all of us" says the team of BrainStorm.
Concert tour "Gads bez kalendāra" will be an opportunity to express support to those whose homes have been destroyed by the war happening in Ukraine. Ukrainians fleeing the war and finding temporary shelter in Latvia will be honored guests of the show and will be able to attend them free of charge by presenting a valid identity document issued in Ukraine.
Concerts are planned in 5 Latvian cities:
July 23th in Jelgava, Lielupe meadow opposite Jelgava castle;
July 30th in Valmiera, Dīvaliņš meadows;
August 6th in Daugavpils, stadium "Lokomotīve";
August 13th in Ventspils, Reņķa garden;
August 20th in Riga, Mežaparks Grand Open air stage.
Tickets for the tour can be purchased on the website eKase.lv, shopping mall "Spice" information center. Along with the purchase of tickets, eKase.lv novelty is also available - ticket insurance in cooperation with the insurance company "Balcia Insurance SE". Ticket insurance provides a refund if it is not possible to attend the concert. Additional information about ticket insurance is available here.
CHILDREN up to 6 years of age (inclusive), accompanied by their parents, can attend the concert free of charge. From the age of 7, a ticket is necessary.
By purchasing a ticket "Disabled person/companion" the companion can receive a ticket free of charge at the place of the event, upon presenting the ticket and the disabled person's identity card. A companion ticket is only valid together with a disabled person's ticket. At the entrance, the disabled person's identity card must be presented. If the ticket for a disabled person is purchased at one of the physical selling points, the cashier will also issue a companion ticket.
In Daugavpils, the VIP seating tickets have no special advantages. The VIP seats are located in the section with the best visibility.
PROHIBITED ITEMS IN THE CONCERT: umbrellas, selfie sticks, photo and video equipment stands, foldable chairs, food and drinks, professional photo, video and audio equipment (except for with special permission from the event organisers), guns, sharp objects, pyrotechnics, laser pens, dangerous substances and objects, motorcycle helmets, skateboards and other active sports gear, pets.
All shows are fully standing however we do offer seating areas around some of the food concessions where you can eat your meal. Please be aware that due to the busy nature of the shows you may be asked at any time by a member of security to pack blankets away. Please also note that you cannot claim a spot with a picnic blanket (or similar) and leave it unattended. These policies are there to ensure the safety and enjoyment of everyone at the event so we thank you in advance for your cooperation.
CCTV and/or video cameras may be present in the territory of the event. Visitors of the event agree that photos, videos and/or audio recordings may be taken during the event, in which they may be filmed and photographed as a visitor of the event. Such material may later be used in any form, including for commercial purposes without the permission of the visitor.
The use of purchased tickets in advertising and marketing campaigns, including contests is FORBIDDEN.
Entrance to the concert territory from 17:00
Concert begins at 20:00
The tour "Gads bez kalendāra" is supported by: "Balcia Insurance SE", TC Spice, "Neste Latvija", "DSV" ,"City Bee", Delfi.lv, TV3 Group, magazine OK!, Samsung, LMT, "Dienas Mediji", Radio TEV, inbox.lv, Jelgavas, Valmieras, Daugavpils un Ventspils pilsētu pašvaldības.