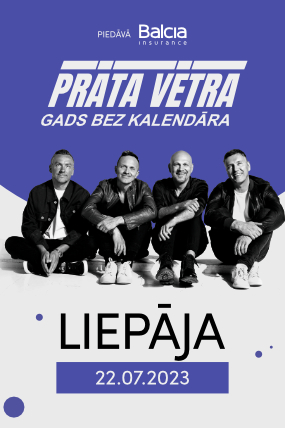 Ticket resale on eKase+ available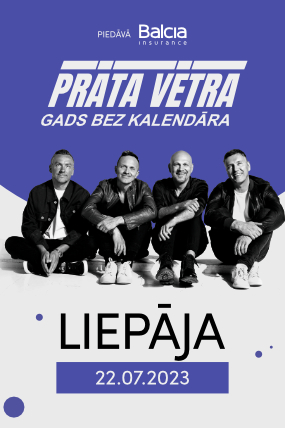 July 22, 2023 BrainStorm tour "Year Without a Calendar" will continue with a show in Liepāja at the "Daugava" stadium!
The band will be happy to see again its fans who have already attended this summer's shows, as well as those who have been waiting for the show to continue in the stadium in Liepaja.
This summer's "Year without a calendar" tour brought together about 110 thousand people in Jelgava, Valmiera, Daugavpils, Ventspils and Riga. These shows were an unforgettable memory, both for BrainStorm and the audience. "We are impressed by these shows so far and we are really determined to go on with them, so we decided not to postpone and please ourselves and our listeners and we have already marked July 22, 2023 in our calendar. Thanks to all our partners and fans who are also ready to go on a new journey with us without delay and start planning their trip to the Liepāja concert right now! We promise lots of surprises. By that time we will definitely come up with a new tune to sing along to!". BrainStorm shares their plans.
In 2023, for the third time, BrainStorm will bring the residents and guests of Liepaja to the Daugava Stadium. "Shows in Liepāja — always such a pleasure. First of all, we are very warmly received here, and secondly, the proximity of the Baltic Sea over the wall will be very useful next year! I'm already looking forward to July 22 marked in my calendar," says BrainStorm singer Renars Kaupers.
The entry tickets to the Liepāja stadium concert can be bought at www.eKase.lv and in the Spice Shopping Center. When purchasing tickets, you will also have the option to insure your tickets in cooperation with Balcia Insurance SE. This feature provides a refund in case you are unable to attend the concert due to unforeseen circumstances. More information about ticket insurance can be found here.
Ukrainians, who were brought to Latvia as refugees, will be guests of honor at the concert and will be able to attend it for free. Entrance to the concert will be possible upon presenting a valid document issued in Ukraine. To apply to attend the concert (general access - without entrance to the fan zone, without a separate seat), please fill out the google form.
Children up to the age of six (including) can attend the concert free of charge accompanied by their parents.
There is a fan zone in front of the stage at all concerts of the "A Year Without a Calendar" tour. It is divided into side A and side B, which are identical.
After you purchase a Disabled Person/Companion Ticket, you can get a free Companion Ticket by writing to info@ekase.lv and sending in your ticket purchase number. The accompanying ticket will only be valid together with the ticket for the person with a disability. At the entrance to the concert, in addition to the tickets, you will also be required to present identification of the person with a disability. If a ticket for a person with a disability is purchased at physical ticket outlets, the cashier will also issue an accompanying ticket.
DO NOT BRING
Umbrellas, selfie sticks, photo and video equipment stands, foldable chairs, food and drinks, professional photo, video and audio equipment (except for with special permission from the event organizers), guns, sharp objects, pyrotechnics, laser pens, dangerous substances and objects, motorcycle helmets, skateboards and other active sports gear, pets.
CCTV and/or video cameras may be present in the territory of the event. Visitors of the event agree that photos, videos and/or audio recordings may be taken during the event, in which they may be filmed and photographed as a visitor of the event. Such material may later be used in any form, including for commercial purposes without the permission of the visitor.
DO NOT use tickets for promotional or marketing activities, including contests.
Entrance to the concert venue starts at 18:00.
Concert starts at 20:00.
The concert tour is supported by the insurance company: Balcia Insurance SЕ, TC Spice, Neste Latvija, Samsung Galaxy, DSV, City Bee, news portal Delfi.lv, TV3 Group, Dienas Mediji, magazine Pasaiga and Radio TEV