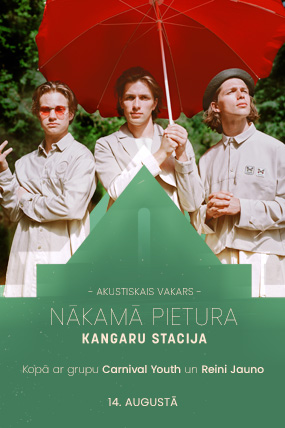 Ticket resale on eKase+ available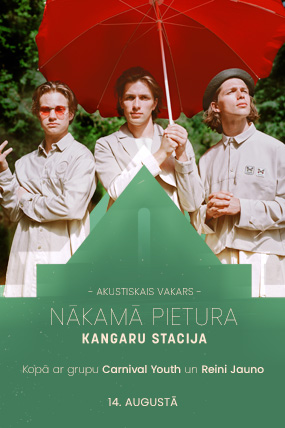 On Friday evening, August the 14th, we are welcoming you to Ropazi County, for an acoustic evening at the next stop - Kangaru Station.
Let's enjoy a beautiful evening with acoustic music & positive emotions.
Who will perform?
First to perform with their acoustic performance will be guitarist Reinis Jaunais with his concert program "Earth".
Reinis is one of the best-known young generation guitarists in Latvia.
Later in the evening, as the sun sets and lights start to shine, group Carnival Youth will delight us with their beautiful acoustic performance.
In the course of the evening we will hear songs from their studio albums "No Clouds Allowed","Propeller", "Good Luck" and Latvian album "Vienā vilcienā", also without missing out on this summer's hit "Vasara bez internetiem".
What else?
Let's enjoy delicacies, relax in the light of the evening lights & capture beautiful moments!
There'll be positive emotions and smile on your face at the next stop - Kangaru Station! See You there!