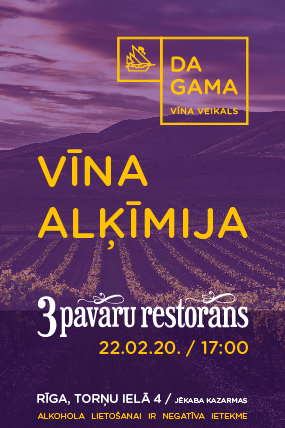 Ticket resale on eKase+ available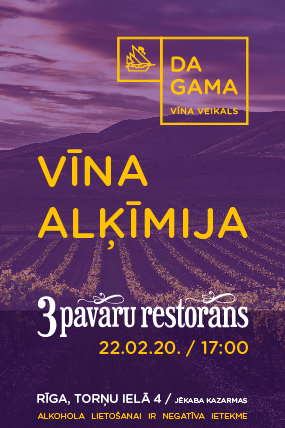 Riga, we invite you to experience some of the best Old World wines from Portugal, France, Italy and Spain. Try 50 wines from 10 producers and meet face to face winemakers or representatives to hear real life stories about the wines you are tasting. Light
refreshments and a relaxed ambiance will accompany your wine tasting experience.
When: Saturday, 22.02.202, 17.00 - 20.00
Where: 3 pavaru restaurant 4 Tornu Street
Get your ticket now!
Fee: 25 EUR
Da Gama vīna veikals, one of the newest wine shop in Riga, located at Torna Iela 4, has selected for you a group of hand picked wine producers that best represent the Old World. Producers who are as much experts at the groundbreaking European wine making tradition as they are traditionally groundbreaking. Set sail with us for a sample of modern classics, experience old codes and new messages. It is time for a brand-new retro. Friends in Riga, look right, the Old World at starboard side.
THE CAST:
From the Dão region of Portugal, one of the oldest wine regions in the country, Quinta dos Roques is a 3rd generation family owned winery, here represented by Mr. Luis Lourenço. From the Alentejo region of Portugal, the prairies 100km south
from Lisbon, Quinta da Plansel, is the "baby" of licensed oenologist Dorina Lindemann. From the heart of the Languedoc-
Roussillon region in France, Château Cabezac and Mas Roc De Bô are projects helmed by Gontran Dondain, who has set to constantly improve and modernize the vineyards in his estate. From the Bordeaux region of France, the Famille Borderie are
members of the order of the vine growers of Bordeaux and Bordeaux Supérieur. From the Puglia region of the south of Italy, a place where everyday tends to blend with the eternal, come Feudi di Guagnano who define conviviality, negroamaro sips, paths,
landscapes, friendship and hospitality as their essence. From the Piemonte region of Italy, Cascina Galarin are artisans still
writing a story that started more than 200 years ago. From the Ribera del Duero region of Spain, Carramimbre have Time Flavour Earth Wind Sun as their motto. From the Terra Alta region of Spain, just southwest from Catalonia, Altavins are flag bearers of the Mediterranean wine making spirit.