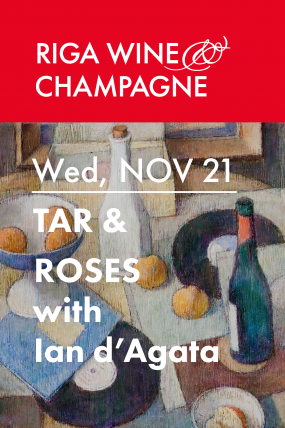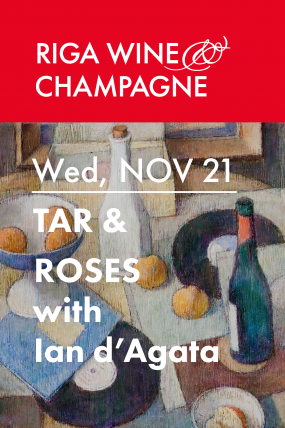 TAR & ROSES + Ian d'Agata
The Opening Night of Riga Wine & Champagne promises to be unforgettable – when else have you had a chance to dine in the company of Ian d'Agata, Italy's leading wine authority, and nebbiolo, Italy's most noble grape?
Great Nebbiolos are paragons of grace and perfumed refinement (Ian d'Agata).
Nebbiolo is Mastroiani of Italy's wine scene (Angelo Gaja).
Nebbiolo is as sweet as the silky Madeira, as astringent on the palate as Bordeaux and as brisk as Champagne (Thomas Jefferson).
Wines and menu: A selection of nebbiolos from Barolo commune in Piedmont, Italy, will feature both young and mature, modern and traditional, barolos from all corners of the Barolo commune. The evening's wine will include region's superstars like Bruno Giacosa and Bartolo Mascarello – stay tuned for the full line-up!
Who is Ian d'Agata:
Ian is the world's leading Italian wine authority, a wine writer and author, Creative Director of the Collisioni Wine & Food Project, Scientific Director of the Indigena Festival, Director of the Italian International Indigenous Center for Wine & Food Studies (3iC) and Senior Editor of VINOUS.
Author of very successful publications such as "The Ecco Guide to the Best Wines of Italy", his most recent literary work "Native Wine Grapes of Italy" won the prestigious 2015 Louis Roederer International Wine Awards Book of the Year, never won before by any Italian. The book was also featured in the Top 10 Wine Books of the Year by the NY Times, the Financial Times and the LA Times.
In a recent past he was also Contributing Editor of Decanter and co-author for ten editions of the "Guide to the Best Italian Wines D'Agata & Comparini" for which in 2009 he received the International Association of Culinary Professionals Gourmand Award. In 2018, Ian D'Agata was nominated new member (as "Accademico Ordinario") by the Accademia della Vite e del Vino. In addition to being awarded in 2012 as the best wine journalist in Italy, by the Grandi Cru d'Italia Committee; in 2016 Ian was nominated in France as one of the eight most important wine writers in the world by Les Plumes d'Or, the prize awarded in Paris in France, and promoted by the most famous wine producers of France and the "Chefs des Grandes Tables du Monde" association.
When, where, what?
Nebbiolo dinner in the company of Ian d'Agata
November 21, 18.30, Vincents
Tickets: EUR379 at www.ekase.lv and by writing to rigawinechampagne@necom.lv