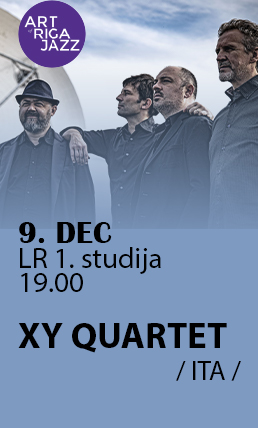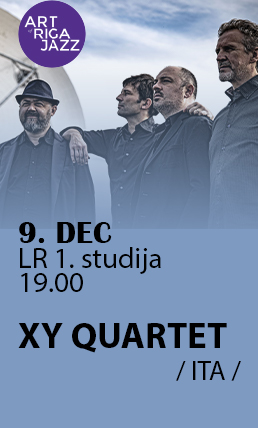 The Italian new jazz band XY Quartet will perform in the autumn concert series Art of Riga Jazz at Latvian Radio Studio 1.
The Italian new jazz band XY Quartet has been operating for more than 10 years, uniting saxophonist Nicola Fazzini, bassist Alessandro Fedrigo, vibraphonist Saverio Tasca and drummer Luca Colussi in one musical direction. All together create original, exciting and innovative music, using different musical and artistic languages and offering modern arrangements, freely flowing between jazz and contemporary music.
XY Quartet continues to expand its already wide musical spectrum. Four released albums and countless concerts both in the homeland and abroad have made it possible to achieve success in wide international circles of jazz lovers.
XY Quartet is called a new jazz band because it has developed various techniques, how to compose music in a different way and how to improvise in a more unusual way. For example, the saxophonist Nicola Fazzini, aka X, is fascinated by multimeter, or fluid playing in various rhythmic structures, and focuses on fixed pitches as well, while Alessandro Fedrigo, aka Y, delved into tonal scales, or the so-called dodecaphonic concept... They easily can be called musical mathematicians.
"The orbits of the title reflect in a certain way the geometric nature of the proposed music, which is largely built on a network of trajectories, traced by the four instruments in a multidirectional way, sometimes opposite, sometimes parallel, sometimes crossed, whose clear and crystalline lattice builds the general mood of the music." (allaboutjazz.com)
XY Quartet will perform in Riga in the autumn concert series Art of Riga Jazz of the Rīgas Ritmi Festival, which is intended for musically passionate listeners who appreciate high-quality artistic performance and new nuances of musical sound, as well as want to meet great and internationally recognized musicians in a more intimate atmosphere.
The concert in the Latvian Radio Studio 1 will start with a conversation led by music journalist Kaspars Zaviļeiskis, allowing to understand the nuances of the creative activities of XY Quartet.