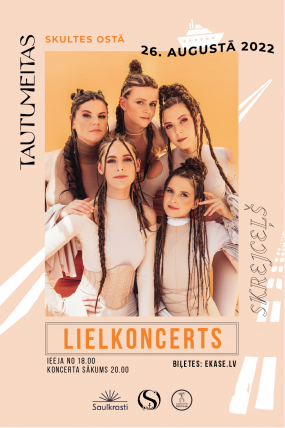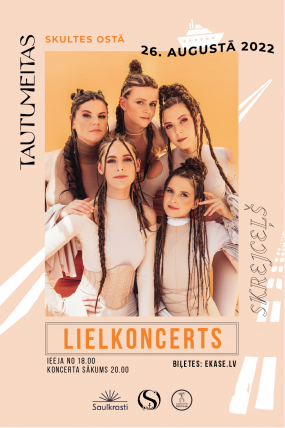 Ethno music group "Tautumeitas" invites you to it's one and only concert of the summer 2022 "Runway" on August 26 in Saulkrasti, Skulte port.
The upcoming new album and the already released singles are a harbinger of the carefree freedom, inspiration and creative explosion of energy that has been raging inside the band for some time. The concert will feature songs from the band's new album, made with the band's favorite producer Reinis Sejans, as well as in collaboration with the great Swedish producer Povel Olsson. Of course, you will hear also the songs from the bands first album, which touches the roots and allows you to feel the joy and pride of who you are.
Saulkrasti has become a home for some members of Tautumeitas, so the band is happy that the concert will take place in a very special venue. Skulte port is a closed area on a daily basis. There is shipbuilding and active export of peat and timber happening, so ships cruise continuously. The port will hold a concert for the first time! Visitors will have the opportunity to explore the magical port area and experience the fantastic atmosphere of the festival.
During the evening guest artists, great show, as well as warm-up artists are
expected to make the evening memorable for everyone.
Koncerts notiek sadarbībā ar Saulkrastu novada pašvaldību, Saulkrastu kultūras centru un Skultes ostu.
Ieeja pasākumā, uzrādot sadarbspējīgu vakcinācijas vai pārslimošanas Covid-19 sertifikātu. Bērniem līdz 12 gadu vecumam nav jāveic Covid-19 testi, bērniem, kuri sasnieguši 12 gadu vecumu, jāuzrāda Covid-19 vakcinācijas, pārslimošanas vai testēšanas sertifikāts.
Bērniem līdz 7 gadu vecumam un invalīdiem 20% atlaide ievadot kupona kodu.