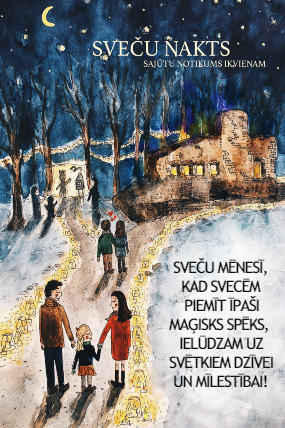 Galimas eKase+ antrinis bilietų pardavimas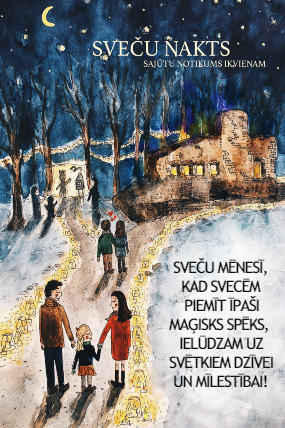 "Candle Night".
In the middle of winter - Candle month, when candles have a magical power, everyone is invited to celebrate life and love "Candle Night".
On February 15, at sunset, the Lielvarde Manor Park will be filled with mysteries of light and fire, and thousands of candles will light up, inviting you to an evening filled with miraculous events.
During the candlelight month, the fire ritual - for the success and prosperity of the initiation of fire - provides a particularly powerful energy. Therefore, you are invited to bring a candle, which you can light during the ritual, to carry a blessing throughout the year.
The voices of a capella vocal group "The Garden" will be performed in the fabulous manor park, while the mystery of light and fire will be supplemented by the performance of the shadow theater.
There will be pop - up cafés during the event.
Entrance to the park from 5 pm, duration till 9pm.
Ticket price for pre-sale until January 31 - 5 eur, children under 7 years. free of charge
Starting February 1st and on the day of the event at the entrance - 7 eur., For children under 7 year free of charge.