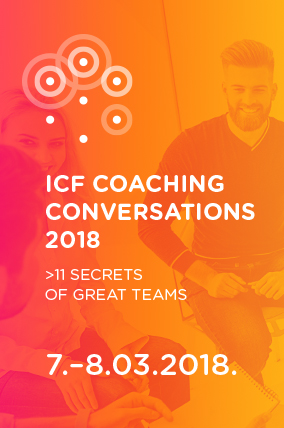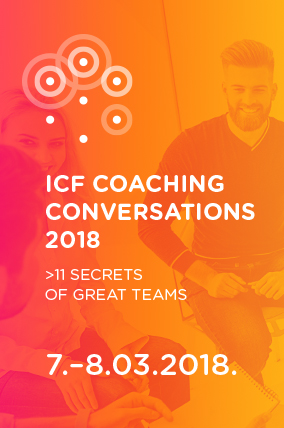 International business development and coaching conference ICF Coaching Conversations 2018 >11 Secrets of Great Teams will be held in Riga on March 7th and 8th, 2018. The two day programme includes several internationally recognised expert keynotes and practical masterclasses.
Programme:
March 7, 2018 - 3 Masterclasses
10:00 – 12:00 - Paulius Rate (LT) - Team Coaching as an Invitation for Team Interplay
13:00 – 15:00 - Andrew Jones (UK) - Team Coaching – the Lumina Way
15:30 – 17:30 - Anda Kalniņa-Stūrīte, Gitāna Dāvidsone (LV) - How to get into the stream with the team?
March 8, 2018 - Masterclass and Conference
9:00 - 11:00 - Marion Latour (NL) - The systemic wisdom of horses (Masterclass)
13:00 - 17:30 - ICF Coaching Conversations 2018 conference (full conference programme: www.icfcc.lv).
The conference topic is " >11 Secrets of Great Teams". Teamwork is influenced by various factors - technology, environment, products etc. If team member interpersonal relationships are based on respect and high self-motivation, the team will find ways to make the company more successful. Conference attendees will have to opportunity to find out how to adjust their "I" and develop intelligent teams, providing a unique contribution to reaching team goals.
Additional information: www.icfcc.lv.
For an additional cost it is possible to request conference translation (Latvian - English; English - Latvian). One of the lectures will be held in Russian and will not be translated.
The masterclass and conference location will be announced soon.
We're offering a discount on tickets for groups purchasing 3 or more tickets:
Group ticket for 9 or more persons - 15% discount
Group ticket for 6-8 persons - 10% discount
Group ticket for 3-5 persons - 5% discount
You can purchase tickets to the conference and masterclasses by online payment (legal entities can add requisites in the system and receive invoice). If you wish to pay by bank transfer send an invoice request and company requisites to info@ekase.lv, indicating how many and what type of tickets you would like to purchase.