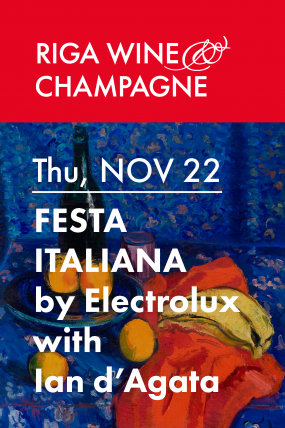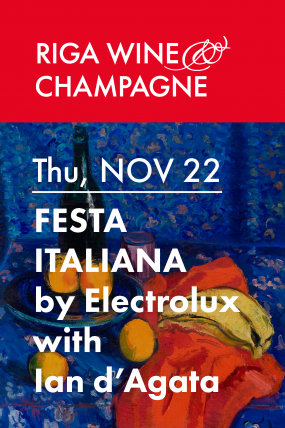 FESTA ITALIANA by ELECTROLUX. Special guest IAN D'AGATA.
On this special Festa Italiana night on November 22 we will showcase Italy's most distinctive and seductive wines in the company of Ian d'Agata, the world's leading Italian wine expert. Are you ready for a real Italian party in Riga?
Ian d'Agata will be dining with Riga's most passionate Italian wine, food, and culture lovers, and will be more than happy to share his stories about the wines and their place in Italian culture. The cuisine will be presented by Biblioteka No1 team in cooperation with consultant chef Andrey Schmakov (SAVVA (Moscow), Tartar (Tallinn)).
Wines and the menu of the Dinner: to be presented in October!
Who is Ian d'Agata:
Ian is the world's leading Italian wine authority, a wine writer and author, Creative Director of the Collisioni Wine & Food Project, Scientific Director of the Indigena Festival, Director of the Italian International Indigenous Center for Wine & Food Studies (3iC) and Senior Editor of VINOUS.
Author of very successful publications such as "The Ecco Guide to the Best Wines of Italy", his most recent literary work "Native Wine Grapes of Italy" won the prestigious 2015 Louis Roederer International Wine Awards Book of the Year, never won before by any Italian. The book was also featured in the Top 10 Wine Books of the Year by the NY Times, the Financial Times and the LA Times.
In a recent past he was also Contributing Editor of Decanter and co-author for ten editions of the "Guide to the Best Italian Wines D'Agata & Comparini" for which in 2009 he received the International Association of Culinary Professionals Gourmand Award. In 2018, Ian D'Agata was nominated new member (as "Accademico Ordinario") by the Accademia della Vite e del Vino. In addition to being awarded in 2012 as the best wine journalist in Italy, by the Grandi Cru d'Italia Committee; in 2016 Ian was nominated in France as one of the eight most important wine writers in the world by Les Plumes d'Or, the prize awarded in Paris in France, and promoted by the most famous wine producers of France and the "Chefs des Grandes Tables du Monde" association.
Ian D'Agata has taught history of Italian food and wine culture at the master in "Food Sciences" of New York University, and wine marketing in several Italian universities. Finally, Ian is a lecturer who is invited around the world to talk not only about native vines, but also about the relationship between wine and health. Ian is actively involved in the recovery and rescue of ancient, almost extinct native vines with the aim of making them vinified again.
What, where, when?
Festa Italiana dinner by Electrolux. Special guest Ian d'Agata.
November 22, Bibliotēka No.1 restorāns, 19:00
Tickets: www.ekase.lv, EUR139